Find A New Buick Encore in North Carolina
If you are located near Wilkesboro, NC and you are on the hunt for a New Buick Encore, you've come to the right place. Here at McNeill Chevy Buick, we have all new 2022 Buick Encore models available on our lot.
We encourage you to come to our lot for a test drive of this model to see all the amazing features that comes equipped in these models. You can't truly know what type of vehicle you will like the most until you test drive it. Some of the features that are available for the 2022 Encore are attractive to anybody looking to purchase an SUV.
Some of the following are features that select models of the Buick Encore come equipped with.
Buick Encore with Heated Seats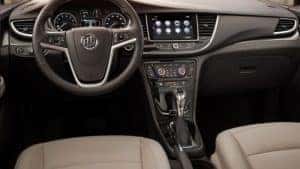 Having heated seats is a feature that many car buyers now associate as a make or break deal. If a car doesn't have heated seats, it is much less likely that a buyer will want the vehicle. The Buick Encore doesn't have heated seats in all of its models so you will have to look for the models that have this feature.
You will commonly find heated seats as a feature on the Essence trim as well as the Premium trim. Both of these models were manufactured from 2013-2018.
Buick Encore with Remote Start
Remote start is a feature that has been becoming increasingly more popular over the past decade. This feature was revolutionary at its beginnings, but now comes as standard in many of todays vehicles on the market.
The Buick Encore currently offers remote engine start as an option on both its front-wheel and all-wheel drive Preferred models. In past years, the Encore also offered remote engine start as the standard on its Premium, Leather, Convenience, Preferred II, Essence and Sport Touring trims as well.
Buick Encore with Sunroof
Having a sunroof on a Buick Encore is another one of those features that a buyer considers a must have. A sunroof is a great way to let in some extra air into your vehicle and feel the wind flowing throughout your car. There are both panoramic and standard sunroofs available in many car models in todays market.
You can see our blog post on which Buick Encore vehicles generally come equipped with a sunroof, however, it is usually the Preferred, Sporting, and Essence trim.
Buick Encore with Leather Seats
Leather car interior is often associated with higher quality and sporty appearance. Some Buick Encore models offer leather seating while other models have simulated leather interior. You will most likely find leather interior on the Essence and Premium trim level of the Encore, while you will find the simulated leather seating on the newer models like the Buick Encore Preferred.
Get A Buick Encore at McNeill Chevy Buick of Wilkesboro, NC
If you are located on the Western side of North Carolina and would like to buy a Buick Encore with any of these features, please contact our dealership today. You can browse our current inventory for new Buick Encore models above or call us to ask about what models we currently have in stock.