July 4th 2021 Chevy Buick Sales Event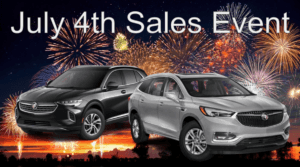 With the clock consistently ticking away, the July 4th, 2021 Chevy Buick Sales Event is right around the corner. If you have not made any plans regarding this year's amazing car deals, you better do so now that you still have the time. McNeill Chevrolet is at it again with our massive deals coming this Independence Day. Anyone who has been a passionate follower of Chevy cars knows they never disappoint. That is all the more reason you have to be at this year's sales event. Here are a couple of other things you need to know about the highly revered Chevy Buick sales event taking place at McNeill Chevy in High Point, NC.
July 4th, 2021 Buick Envision Deals
Besides being one of the most compact SUVs, there are several reasons the Buick Envision will always make a nice pick for your next vehicle. We will brush through some of those features in this section to give you a good view of what this car has to offer.
Buick Envision Improved Designs
The first thing you need to know is that the design of the 2021 Buick Envision has been advanced in so many ways. So if you still view Buick Envision from its previous editions, you need some catching up to do. Everything about this car has been beefed up. It now has an enhanced exterior and interior design.
Buick Envision Safety Features
The automatic emergency braking system has been enhanced in the latest Buick Envision. The AEB technology enables the car to come to a quick stop anytime the car senses an obstruction that could be dangerous. With items like airbags, driver knee-bags, and others, you will be extremely safe on the roads. That's because it has been carefully designed with more than enough safety features than the previous model years.
Buick Envision Infotainment
In infotainment, this car is packed with a lot of features that will make any trip a pleasant one. You can leverage the Apple CarPlay and Android Auto for a quick connection to listen to your favorite tunes. It is designed with a noise control and noise cancellation system as well. The Buick Envision comes equipped with an HD radio where you can listen to as many as 150 channels. The 2021 Buick Envision is a car you should be looking forward to. Make sure that you check out deals on this vehicle at McNeill Chevy Buick this coming July 4th weekend.
July 4th, 2021 Buick Enclave Deals
The Buick Enclave has been ranked as number twelve of all the middle-sized SUVs. That is an amazing feat for a classic car. There are many interesting features you will need to learn about this car. Take advantage of the upcoming July 4th celebrations to get as much information about Buick Enclave as possible. The best way to learn about the features of a car you would like to purchase is to take it for a test drive and experience the features first hand. We will go over several of those prominent features next.
Buick Enclave Seating & Cargo Flexibility
The seating and cargo flexibility arrangement for Buick Enclave is nothing short of amazing. It has been designed into three rows, with comfortable seating positions. It has the capacity of accommodating as many as seven passengers at most. Whether you are just driving out for a usual commute on a weekday or you intend to take it out for a weekend adventure, this car always makes for a perfect choice. It comes with sufficient space for your cargo as well.
Buick Enclave Comfort Features
Anytime the Buick Enclave is remotely activated, the front seats are automatically heated and ventilated to the proper temperature, providing maximum comfort the second you sit in the driver seat. The beautiful part is that you don't have to adjust this setting as you are driving. The system is sensitive enough to do a self-adjustment according to temperature sensors in the car. This is an amazing feature by any standard.
Buick Enclave Quiettuning Technology
This is one remarkable feature that sets this SUV apart from others in its category. Thanks to its noise-canceling technology, you would have one less thing to deal with: unwanted sounds. You will not be interrupted when you are trying to have a smooth conversation with your passengers.
These features are only a few of the many more that await you with this vehicle. Make sure you visit McNeill Chevy Buick to make yourself a part of the July 4th, 2021 Buick Enclave Deals.
July 4th, 2021 Chevy Bolt EV Deals
The Chevy Bolt EV does not just have a great appearance inside out, the electric hatchback has been redesigned with enhanced features that excellerate this models performance. While you can quickly notice changes like the futuristic sheet metal, as well as the refinished cabin, you would also appreciate its near-instant driving capability, thanks to its front-drive powertrain. It can travel more than 250 miles when fully charged. You don't want to miss the upcoming July 4th, 2021 Chevy Bolt EV Deals for anything. Here are some other features to get you more interested in this car.
Bolt EV Engine, Performance, & Transmission
The electric motor in the Chevy Bolt EV can still send up to 200hp to the wheels in front. This setup helps to provide instant response to all the accelerator inputs.  If you want more fun, you can turn on the single-pedal driving mode. That can be achieved through the simple press of a button.
McNeill Chevy Buick 4th of July Sales
Make sure that you are a part of the amazing deals that we are offering to our customers this 4th of July weekend. If you would like to learn more about any of these vehicle models, we highly recommend taking one out for a test drive. Visit us in High Point, NC and we will get you into one of these models ASAP. If you would like to learn more about the amazing deals that are going on this July 4th weekend, contact us today and we will get back to you as soon as we can!