Which Buick Encore has Remote Start?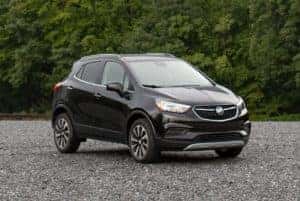 The Buick Encore has been one of the leading subcompact SUVs since its inception in 2013.  It has undergone a couple of cosmetic facelifts and has integrated new technologies to keep up with current times, allowing it to continually remain competitive amongst other vehicles in its class.  
The Encore seats up to five individuals across its two rows of seating.  Despite being a subcompact SUV, the Encore provides substantial space for passengers both in the front row and the second row.  However, it still has wonderful handling that makes it a great vehicle to drive in the city.  The Insurance Institute for Highway Safety also provided the latest model with the highest possible safety rating, proving how reliable of a vehicle it is.  It comes with a standard backup camera, as well as many available features to add on.  These include blind spot monitoring, rain-sensing windshield wipers, lane departure warning, among other options.
The interior cabin provides extra comfort for passengers in addition to the roominess.  Buick provides synthetic leather upholstery for its seating, giving the cabin an upscale feel.  Additionally, a 7-inch touchscreen infotainment display provides satellite radio, Apple CarPlay and Android Auto, and a WiFi hotspot.  Two USB ports provide access to plug in your phone or other electronics.  Drivers can also elect to add a sunroof to their vehicle to add extra light and ventilation.
With all of these incredible features, the Buick Encore seems to have it all.  But do they offer a remote engine start option on the 2022 model?  How about on previous models?  Let's explore what remote engine start is, and if the Buick Encore has ever offered this incredible feature.
Remote Start Functionality
The remote start function in a car allows an individual to turn their car on without actually getting into the vehicle.  This typically works by using a button on the key fob or through an app on their phone.  The Encore, for example, has both the optionality of either the key fob or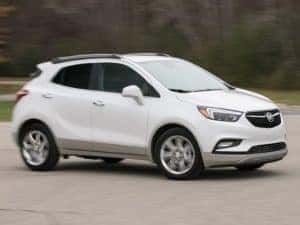 MyBuick app for its remote engine start feature.
The Encore's remote engine start has the capability to run for up to thirty minutes.  It will initially run for fifteen minutes, but the driver may elect to run the feature for an additional fifteen.  Encore drivers also have the ability to remote stop their vehicle as well.  The mobile app does require a monthly subscription to use, but will function just like your key fob in terms of starting your car, locking or unlocking it, and even using and stopping the alarm.  The app also has many other great features that further connect your phone to your vehicle.
Using remote start allows drivers to make the car warm up or cool down depending on the exterior temperature.  This way, drivers can skip the discomfort of getting into a freezing or stuffy car and waiting for it to adjust.  Additionally, they can skip waiting for their car's engine to warm up in the winter and head to their destination.
Buick Encore Remote Start Availability
While remote engine start seems like an incredibly new feature, it has actually been around for quite some time.  In fact, the Buick Encore has offered remote start as an option or standard on select trims since it first hit the market almost ten years ago.
The Buick Encore currently offers remote engine start as an option on both its front-wheel and all-wheel drive Preferred models.  In past years, the Encore also offered remote engine start as the standard on its Premium, Leather, Convenience, Preferred II, Essence and Sport Touring trims as well.
If you are in search of a Buick Encore with remote engine start, you can find the feature on any year of the vehicle.  You just need to find the correct trim offering this incredibly useful feature.
Visit McNeill Chevrolet Buick Today!
Are you looking for a Buick Encore with remote engine start near the Wilkesboro, North Carolina area?  If so, McNeill Chevrolet Buick can help!  We have multiple new and used Buick Encore models in our inventory ready to go home with the perfect person.  We also have other vehicles in our inventory as well if you decide the Encore is no longer the next vehicle you want.  
Our expert staff will be able to help you decide exactly which car will fit your budget and lifestyle the best, and then will help you through our financing process to ensure you get the best price.  Feel free to fill out our contact form below or stop by our dealership to test drive one of our available vehicles.  We look forward to helping you soon!