Best Chevy SUV For a Family of Five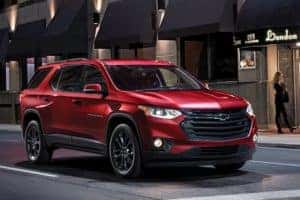 Expanding your family means investing in a larger vehicle to drive them around. Maybe you don't have a lot of children yet but are thinking about it. Nothing is worse than getting stuck with a dreadful minivan that you do not want. You also might not like a full-sized van. They are hard to park and burn a lot of gas. The good news is there are more options than vans for traveling with the entire family. At McNeill Chevrolet, we offer various large SUVs that are perfect for outings with the family.
What is the best Chevy SUV for a family of five?
Chevrolet SUVs are known for having an ample amount of room for a large family of five. If you have three or more children or are looking to expand your family, we recommend an SUV with three rows of seats. The Chevy Tahoe, Traverse, and Suburban all have multiple seats and fit seven to eight passengers. Even if you do not have a large family, these SUVs are ideal for those who use their car to move large objects or like the extra space.
The Tahoe is one of Chevy's most loved SUVs. The 2021 Chevy Tahoe is priced around $50,000 for its standard trim. It gets around 15 miles per gallon in the city and 20 on the highway. This SUV has two powerful V-8 engine options. It even comes with a torquey diesel version, ideal for towing a boat or trailer. The Tahoe has the latest features, including Apple CarPlay and Andriod Auto. It also features more cargo and passenger room than previous models.
A cheaper alternative to the Tahoe is the Chevy Traverse. Its starting price is at $30,000, and it has better gas mileage, with 18 miles per gallon in the city and 27 on the highway. The Traverse also seats up to eight passengers. The main difference between the Tahoe and the Traverse is that the Traverse is considered a midsized SUV. Unfortunately, it has less space. It still holds an impressive amount of people for a reasonable price, and it can tow up to 5,000 pounds.
Our largest and oldest SUV is the Chevy Suburban. The Suburban has been on the market since 1935. It combines comfort with a high towing capacity. We love the Suburban because, unlike most SUVs, it has plenty of legroom in the third row. Although it is the most expensive SUV in our lineup, with prices starting around $52,000, it is the most accommodating for a large family.
Shop Chevy SUVs at McNeill Chevrolet
McNeill Chevrolet is the place for all your car needs. We have plenty of SUVs from new to preowned. Maybe you do not know what SUV you want. That is okay. Our team will point you in the right direction and give you options. Stop by our location in Fayetteville, North Carolina, or give us a call if you have any questions. We take excellent care of our vehicles, leaving our customers worry-free after a purchase. We look forward to seeing you soon.