2022 Buick Enclave Release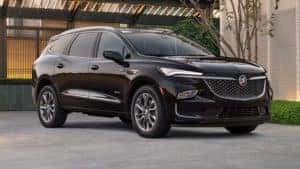 If you are a person who is looking for a stylish, family-friendly, and affordable luxury crossover SUV then this article might be of your interest. The 2022 Buick Enclave is a big SUV with three rows that offers a comfortable ride for up to seven people. It provides its customers with a relaxing ride and many standard features of Buick. This newer model is not much different from its previous versions but the features have been upgraded and now it is a well-rounded product. Some new headlamps and taillamps have been added, the wheel design is updated, the rear bumper and front of the car have been redesigned and all of such updates are giving this vehicle a sleek and modern look.
Specifications of the New 2022 Buick Enclave
Fuel Economy
Usually, the fuel economy of a big SUV is not as much as smaller SUVs but still, this vehicle provides fair enough fuel mileage as compared to the other big SUVs. The basic trim level of this model which is AWD 4-Door Essence has all-wheel drive and provides 17 miles per gallon in the city and 25 miles per gallon (mpg) on the highway which makes it around 20 miles per gallon combined. There is another version of this model which is AWD 4-Door Avenir which also provides that same mileage both in the city and on the highway. However, the FWD trim level provides a little better mileage that is around 18 mpg in the city and 26 mpg on the highway
Tank Size
The fuel or gas tank capacity of the 2022 Buick Enclave is 22 gallons. The other version of this car also has a similar fuel tank capacity. This vehicle with its tank filled with fuel can cover around 374 miles in the city and around 550 miles on the highway.
Passenger Capacity
The 2022 Buick Enclave has three rows of seats which have a seating capacity of up to seven people. There is plenty of seating space as this is a big SUV and can comfortably fit four large adults in the first two rows of seats. The total space inside of the car is around 204.3 cubic feet which is ample space for both the passengers and cargo. The head and legroom in the front two rows are more than the last row. The front seats are power-adjustable and the option of heated and ventilated seats is also available. There are almost similar features available for the second rows as well. The legroom for first row passengers is 41.2 inches, for second-row passengers it is 38.8 inches and the third row has 33.5 inches which can fit three normal-sized passengers. All seats of this vehicle are comfortable and families can easily travel long journeys with ease and comfort.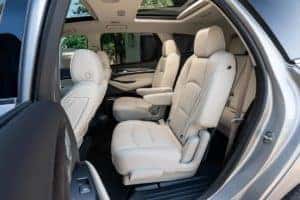 Cargo Space
This vehicle has a trunck capacity of 23.6 cubic feet behind the third row of seats. With the seats folded, the total cargo capacity can be around 97.6 cubic feet. This shows that it is a perfect family car as it can fit a large amount of cargo in its trunk. In addition to this, this model can tow up to 5000 lb of weight and has a payload capacity of 1,801 lb. In a test conducted, this vehicle fit around 38 carry-on boxes with its second and third row of seats folded and 5 carry-on boxes behind the third row of cabin's seats. So, if you are concerned about cargo space in your new car then this would be the best choice for you as it has plenty of cargo space if we compare it to its other configurations.
Transmission
This vehicle has a 9-speed automatic transmission which provides a smooth and fast ride to its users which suits best for family adventures. The other trim of this model also has a similar transmission speed.
Release Date of 2022 Buick Enclave
According to the Buick company, the expected launch time is around the fall of the year 2022. The release of this model will be along the next-generation Buick Enclave Avenir. You can book your 2022 Buick Enclave right now but the exact date of the release has not been confirmed by the company yet.
Cost of 2022 Buick Enclave
The estimated starting price of the base model of the new 2022 Buick Enclave is $42,000 which is the trim level "Prefered". The second trim level of this model is "Essence" which has an estimated price of $44,000, the "Premier" trim comes with a price tag of $50,000, and finally, the fourth trim level which is Avenir costs around $55,000. If we compare the price of this new 2022 model with the 2021 model of Buick Enclave, it is around $800 more expensive than its older version which comes with a price of $41,195. The price difference is not huge and the newer model comes with many added features as well as the modern looks so it is a great deal for its buyers. However, the upper trim levels of 2022 Enclave are a bit pricey.
This new Enclave model has a competitive fuel economy and its tank filled with fuel can cost around $55. With the tank filled with gas or fuel, this vehicle can travel for up to 500 miles.
The older 2021 version of this model is cheaper to maintain and takes an estimated $650 annually for oil changes, tire rotations, repairs, etc. However, if you want to upgrade your older 2021 version to its latest trim then it will cost you an additional $10,000.
Differences between the previous versions and the 2022 Buick Enclave
The major and apparent difference this car has is its exterior and interior design. The exterior is made more trendy and modern looking and is given a more streamlined shape for better efficiency and performance. This model also gets and an entirely new selection of new aluminum wheel options.
Talking about the interior of this car, the interior got a redesign of the center console which has a pushbutton electronic gear selector for automatic gear transmission. In addition to the standard features including Apple CarPlay, Andriod Auto, Bluetooth, etc. this vehicle has a brand new color heads-up display.
Coming to the efficiency and power of this car, the 2022 Buick Enclave has a 3.6 Liter V6 engine that delivers 310 horsepower which is greater than the power the older version of this vehicle delivered.
Brand New Tech features in 2022 Buick Enclave
Infotainment upgrades
This 2022 Buick Enclave comes with new in-dash instrumentation that is a color head-up display. This display projects important information for the driver which includes the speed of the vehicle, engine's rpm, turn by turn directions, information of traffic signs, and so on.
Safety features upgrade
For the new 2022 Buick Enclave, one of the most important changes the company has made is the incorporation of additional safety features including the safety system with advanced driver assistance system ADAS, which includes an automatic braking system, forward collision indicator, blind-spot warning, automatic high-headlights, and much more.
360-degree camera
This vehicle is equipped with a 360-degree camera view system which makes it easy for the driver to pull in and out of tight and close spaces like those in parking lots. This is also useful for driving off roads like trails, etc.
Brand New Interior Features in 2022 Buick Enclave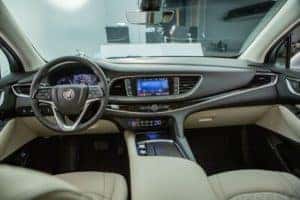 Plenty of Space for Passengers and cargo
There is ample space for the passengers and the cargo as well. The passenger and cargo capacity, although, is lesser than its previous years' version but this model has a perk of lower starting prices.
Upgraded interior
The interior of this model has unique sew patterns and upholstery pipings to give the overall interior some luxury looks.
Gear Selector
There is no more the silly gear selector that was there in the older models of this vehicle, instead, now the gear selector is in a stylish push buttons array.
Exterior Features of the New 2022 Buick Enclave
Modern looks
This vehicle has been redesigned inside out and the exterior is made modern and more swift-like. The headlights are made slimmer in this version to give a more trendy look. Buick has also reshaped the grille and the taillights also got upgraded.
Rain-sensing windshield wipers
The model is also equipped with automatic rain-sensing windshield wipers that can also be controlled manually.
To conclude this, the 2022 Buick Enclave is a great deal for those who are looking for a stylish and big car for their families at a relatively lower price which gives Buick Enclave an advantage over the other luxury SUV brands. And if you want fancier looks and added features, the upper trim models of this vehicle are also available.
Pre-Order a 2022 Buick Enclave
If you would like to get your hands on the new 2022 Buick Enclave as soon as it is available to buyers, we can help you do so here at McNeill Chevy Buick of Wilkesboro. If you are in the North Carolina area, let us help you gather all the information you need about this model before it hits the market. We are excited to have this new model on our lot. If you would like to learn more about how you can pre-order this model, please fill out the contact form below and we will answer all of your questions.